24 ways to increase youtube video views
So you want to get more YouTube views, but you don't know where to start? You've got the perfect title, tags and description, your video is...

http://www.businesssecrets88.com/2017/11/24-ways-to-increase-youtube-video-views.html
So you want to get more YouTube views, but you don't know where to start? You've got the perfect title, tags and description, your video is hilarious and you've been promoting like crazy on your Facebook and Twitter page, but your video is still not getting the recognition you think it deserves? We've got you covered with a few little known tips that could help skyrocket your YouTube video views.
Before we get started, it's important to note that Rome wasn't built in a day and there is no foolproof method for turning your video into an overnight viral success. It may take time for your videos to start taking off, but these seven tips will definitely get you headed in the right direction and get you more views that you're getting today.
1. Annotations across videos
You know those little text bubbles that you see popping up on people's videos with text that says things like "Thumbs Up!" or "Subscribe!"? Those are called YouTube annotations and they are a fantastic way to increase your video views. Through annotations you can link from one video to another, as well as to playlists of your videos, your channel and more, compelling your viewers to watch more of your videos.
Annotations are a great way to point your viewers in the direction of watching your other videos, in order to drive up your view count across your entire channel. Find out more in our post,
How To Use YouTube Annotations To Maximize Your Subscribers, Views & Overall YouTube Success
and check out annotations in action in the video below. We created a collection of viral video compilations and used annotations to link every single video together, to entice viewers to watch not just one video, but all of the videos in the collection.
2. Playlists
A lot of YouTube users don't realize that playlists are a great way to increase your video views. A playlist is a list, or group, of videos that will play in order, one video after another after another. The good thing about playlists is that they come up separately in search results. That means, if you've got a video about frogs or a playlist about animals that includes the frog video, viewers will have more opportunities when searching to find your video. They may choose to watch your playlist, or they may choose to watch your frog video.
Additionally, because playlists play your videos automatically one after the other, when viewers watch playlists they typically watch more of your videos, which is great for increasing the views across your channel. Playlists can also be embedded, so viewers can watch all your videos together on your blog or website. Find out more in our post,
The Complete Guide To YouTube Playlists
, and check out an example of an embedded playlist below.
3. Take advantage of email marketing
Publishing great videos is certainly a solid first step—but you have to make sure your audience knows when you post new content. And what better way to deliver updates than through your followers' inboxes?
Email is still one of the top channels marketers can use to reach their audience. With an
18 percent
industry average open rate and a
66 percent
purchase rate, email is still king when it comes to sales conversions.
And for eager YouTube creators, there are multiple ways you can reach your loyal fans through email. Let's examine a few:
Existing email list:

If your brand already has an email subscriber list, let them know about your YouTube channel and whenever you publish a new video.

Lead magnets:

Got some great content in the bank? Use that to create a lead magnet. Advertise in multiple places on your channel, and request an email address for viewers to download that content. OptinMonster offers an in-depth walkthrough of

how to use lead magnets in your YouTube channel

.

Playlist intro/outro:

Rather than editing every single video to include a call to action, include an intro/outro for your playlist letting viewers know about your email list and asking them to subscribe. You can simply direct them to click on a link in the video description.

Call to action:

Create a call to action on a card asking viewers to subscribe to your email list.
4. Advertise your YouTube channel
To reach new audiences with your content, try
YouTube's many advertising options
.
Run an ad campaign
with AdWords for video. Don't fret—there's no minimum ad budget, so you don't have to break the bank when you run your ads.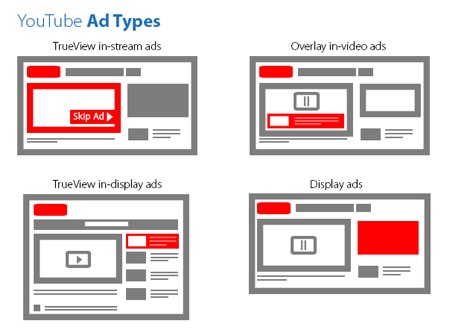 And to ensure you create an ad that really resonates with your target audience,
YouTube's Creator Academy
has offered up some tips to guide you through the process:
Keep ads short

(30 to 60 seconds) and make the most of the first five seconds to keep them watching.

Use clear calls to action

(CTAs) to tell your viewers what they should do next, such as subscribe to your YouTube channel, sign up for your email list, or share your video.

Reach new audiences

with

placement targeting

and

interest category targeting

.

Use the TrueView format

to your advantage. TrueView In-display ads appear as a thumbnail and text on YouTube watch pages in the right-hand side of a viewer's suggested and recommended videos. This format lets you pay a "cost-per-view." You're only charged when a user clicks through from your ad and begins watching your video on a watch page. In-display ads are a great place to promote your existing videos, but before you do, make sure they're well-optimized.
5. Allow video embeds
Ensure your videos have
embedding enabled
so your viewers can easily share your content on their websites and blogs. This is an effective way for your brand to reach new audiences.
How do you tell if embedding is enable? Just hit up your Video Manager's advanced settings, look in your "Distribution options," and make sure the "Allow embedding" box is checked.
YouTube is an incredibly valuable and powerful social network. With the aforementioned tactics, you can promote your YouTube channel in a way that not only helps your business, but engages and builds your social media community.
6.
When choosing keywords for your videos, run a quick Google search to see if there are video results for those keywords. If there are, your video has a better chance of ranking in search.
7. Organize your videos in topical playlists. Use relevant keywords to give your playlists more potential for ranking in search.
8. Include an intro for all your videos. Your intro is where you have a captive audience. Use it to present the content of your video while also reminding viewers they can subscribe to your channel.
9. Use relevant keywords in your title and description so your video has the best chance of showing up in YouTube and Google search results.
10. Include your YouTube video URL when embedding it on your blog. Adding the URL manually may increase clicks to your YouTube channel….and may just lead to your visitors sticking around to check out your other videos.
11.
Create a captivating
channel trailer
to introduce yourself and let viewers know what you're all about. Your trailer will autoplay when a non-subscriber arrives at the homepage of your channel, so it could be your one chance to convince people to stick around and get to know you.
12. Use a strong call to action in your annotations. Near the end of your video, encourage viewers to subscribe to your channel.
13. Create evergreen video content as well as trending video content. Trending videos are great for getting short-term views, but your channel should also contain timeless, useful videos that your subscribers will find helpful over the long haul. These videos tend to rank well in Google search results over time, driving traffic and views over the long-haul.
14.
Include
subscribe buttons
on your blog, especially next to your embedded videos.
15. Long-tail keyword search isn't just important for your written content. Don't be afraid to write long, detailed video descriptions so Google can find your video for relevant and highly-specific long-tail phrases.
16.
Add a YouTube widget to your website or blog. A tool like
Tint
can help you easily display a variety of videos simply by pasting a snippet of code onto your site.
17. Ask viewers to like your videos. When your video gets a lot of likes, it signals to YouTube that your video is popular, helping bump it up in YouTube search results.
18. Reply to comments left under your videos (even negative ones). It shows you're listening and that you care about what your viewers have to say.
19. Work with other YouTubers to promote each other's content. Create co-branded videos or promote each other's videos via your other marketing channels.
20.
Engage your most loyal fans. Look through your
Creator Dashboard
and
Analytics
to identify users who are most engaged with your content. Consider reaching out to them and asking them to share your videos with their fans, friends or communities.
21.
Include a subscribe watermark using InVideo programming. Video marketing expert
James Wedmore
explains exactly how to do this to increase your video views.
22. Show the personal side of your business. People love seeing behind-the-scenes videos and bloopers to know there are real people behind your brand.
23. Promote your videos to your email subscribers. Direct them to embedded videos on your site to increase both video views and pageviews.
24. Invest a significant amount of energy into getting subscribers. Just as your email list is your website's most valuable asset, your YouTube subscribers are your channel's biggest asset.